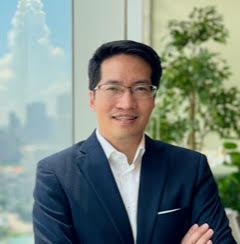 Lawrence serves as the Group CEO of Consulus, a global innovation by design firm serving leaders, companies, and cities in their transformation to shape a better world. Consulus is an Economy of Communion enterprise founded in Singapore in 2004, now present in 16 cities from the Americas, Asia, and Europe. A global speaker, he has spoken at conferences such as Innovation by Design, World Marketing Summit, and in 30 cities such as Sao Paolo, Melbourne on innovation, business design, and the Economy of Communion. In terms of transformation and strategy work for Catholic Organisations, he has worked on Wenzao Ursuline University in Taiwan, Parishes in Singapore, CHARIS, and a Catholic Media Group based out of Italy.
His quotes appear in regional media such as Nikkei Asian Review, Fortune and his thoughts on innovation and strategy are widely followed on LinkedIn with 400,000 followers. He serves as the Distinguished Fellow for Global Economy at the Washington Institute for Business, Government, and Society. He teaches a leadership course about Holistic Leadership at Paul H. O'Neill School of Public and Environmental Affairs. He is the Co-convenor of the Economy of Communion Asia Pacific. He is also a member of the Presidential Advisory Council at Design Business Chamber Singapore. Active in interreligious dialogue, he was appointed by Pope Francis in 2020 to serve as Consultor on the Pontifical Council for Interreligious Dialogue.
In the Catholic Archdiocese of Singapore, he has served various roles in the last 20 years. He was the Pastoral Council Chairman of the Parish of St Anthony. A member of Archdiocesan Catholic Council for Interreligious Dialogue (ACCIRD) since 2010. He served as Head of Communications for Catholic200SG. He is now the Co-Moderator for the Archdiocesan Synodal Committee (Singapore). He serves as a Board Member of the Catholic Foundation.